My refrigerator is empty. That can mean only one of two things: either I have lost my interest in cooking, or I'm so wrapped up in other things that I haven't had a chance to do anything more in my kitchen than make a bowl of cereal or heat up a can of soup. I think we all know it isn't the former. However, since most of those other things that are keeping me busy are good things, I can't really complain. (Except about that soup, which was terrible.) I really thought about cooking something a little more ambitious this weekend, but life got in the way then, too. In fact, the only reason I was able to make banana bread today is because I bought the bananas -- lime green at the time -- over a week ago. They were starting to reach the use-'em-or-lose-'em stage, so I put down the stack of resumes I was pouring over and mashed up the bananas for my favorite quick bread.
Of the many banana breads and muffins I have made or purchased in my life, this one is the very best. Sure, every baker says that, but I really, really mean it. It's ultra-moist, full of banana flavor, and -- bonus -- not totally terrible for you, thanks to the whole-wheat flour. I usually prefer it in its unadulterated form, but occasionally I'll make a batch with toasted nuts, rum-soaked raisins, or a little bit of coconut. Yes, this recipe will let you have it your way, so go ahead and make a batch. I promise you'll think it is the very best, too.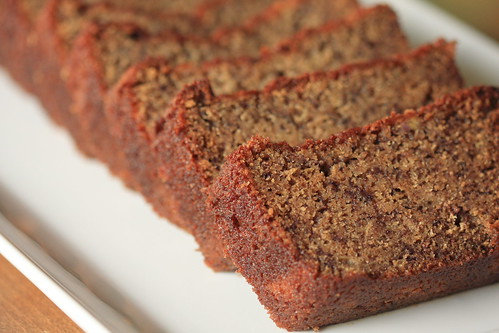 [This recipe was submitted for the
Banana Bread Bakeoff
as well as the April edition of
Tasty Tools
, which celebrates scoops -- excellent tools for making sure your batter is evenly divided between pans.]
Whole-Wheat Banana Nut Bread
A recipe from

Williams-Sonoma: Baking


Makes two 8 1/2 by 4 1/2-inch loaves
2 1/2 cups whole-wheat flour
2 teaspoons baking soda
1 teaspoon salt
1 cup unsalted butter, room temperature
2 cups sugar
2 cups mashed ripe bananas (4 large bananas)
4 eggs
1 cup chopped walnuts or pecans (optional)
Preheat the oven to 350 degrees F. Grease and flour two 8 1/2 by 4 1/2-inch loaf pans.
In a bowl, stir together the flour, baking soda, and salt. Set aside. In another bowl, beat together the butter and sugar until blended. Beat in the banana and then beat in the eggs until completely mixed; don't worry if the mixture looks lumpy and curdled. Stir in the nuts. Fold in the combined dry ingredients until just incorporated.
Divide the batter equally among the prepared pans. Bake until a toothpick inserted into the center comes out clean, about 1 hour. Allow to cool in the pans for 10 minutes, then turn out onto a wire rack to cool completely.